Danny Gans Charities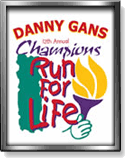 The 2016 Danny Gans Nevada Childhood Cancer Foundation's 5k Run for Life a great success!
We are grateful to our friend, Donny Osmond for hosting this year's charity in Danny's name.
Danny set up this charity to help children in the community diagnosed with cancer or other life threatening illnesses. Although the charity event takes place once a year, we encourage you to consider donating or supporting this invaluable cause for kids. Thank you from the Gans Family!
For further information or to participate throughout the year, please contact the Nevada Childhood Cancer Foundation at 702-735-8434 or visit http://www.nvccf.org. Please contribute to this beloved Gans charity!